Tape Lift Sampling in Poughkeepsie, NY
Tape Lift Sampling is the most common technique used to test surfaces for mold during a mold inspection. It provides valuable information. The species of mold, the relative degree of contamination, and the potential for airborne spore production may all be determined by tape sampling.
KD Environmental Consulting Services provides reliable Tape Lift Sampling diagnosis in Poughkeepsie, NY.
What is a Tape Lift Sampling?
Tape Lift sampling is a simple technique that is often used to collect a settled dust sample from surfaces like furniture, floors, walls, and carpets. Tape lift samples are usually examined by light microscopy for mold, fibers, biological materials, insects, and other particles that are found in dust.
Tools to Collect Sample for Tape Lift Sampling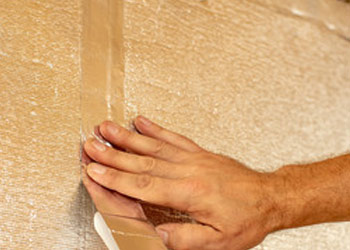 Bio-Tape™ consists of a flexible plastic microscope slide with a pre-defined adhesive area. A center-line marker on the slide aids the user in locating the center when taking the sample and also aids the laboratory analyst in finding the center of the sample. Each slide is provided with a unique serial number for traceability and packed in a slide mailer to prevent cross-contamination.
Scotch tape (even if it looks similar to transparent tape), is not suitable for sampling. Scotch tape is made by blending mineral dust into the film, making it opaque. This is why it is considered a poor choice for microscopy. Packaging tape does not work either, due to the composition of the glue. The glue contains additional dust, which interferes with the final analysis. Once you have the supplies ready, the sampling part is simple.
Why Choose KD Environmental Consulting Services?
Licensed Mold Inspector
Over 10 years of Mold Experience
Competitive Pricing
Fastest Service
Fact Not Fear-Based
Contact us today or call us at 845-203-3934 to avail of our services in Amenia, Beacon, Eastchester, Hortonville, Milbrook, and other places of the seven counties in our New York service area.